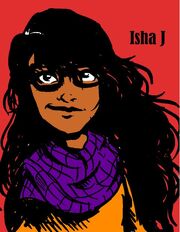 Isha J is a Daughter of Dionysus, Greek God of Wine. She has been on one quest to bring the wind gods on the camp's side.
Isha J
Title
Daughter of Dionysus
Vital Statistics
Gender
Female
Family
Mother
Status
At Camp Half-Blood
Eye Color
Brown
Hair Color
Brown
Height
5'
Other
Affiliation
Olympus
Weapons
Sword (Disguised as Ring)
Species
Demigod
Home
Camp Half-Blood
Greek/Roman form
None
Quests
None
Backstory
Edit
So hi. I'm a demigod.
I was diagnosed with ADHD, no dyslexia. I'm 14 years old, Indian.
I'm a short girl. Brown hair, browner eyes. The glasses came into the picture when I was 6.
I've always had a simple, functioning family. Money was never tight, I always got what I wanted. As a little girl I used to be quite the artist but as I grew up, I started to draw less and write more. I never really liked sports; I play badminton a little but it's just for shits and giggles. Always been thin without really trying.
Anyway, my father was in my life until I was four or five, but then he left for good. Until one day when I was 12, and I was attacked by a Manticore when I was walking home. I took a short cut every day, avoiding the main road, where I could listen to my music quietly without the noise of the traffic. I'm one of those girls who likes to keep pepper spray in her bag. But I digress.
When I was attacked, I screamed. I sprayed it with the pepper spray. Nothing worked. People who could see me just walked on by, thinking I was crazy.
And then, a tall and lanky boy came running over, pulled out a freaking sword out of nowhere and stabbed the thing right through its neck. By this time, I'd started crying. So much blood and confusion.
The boy was called Patrick. He brought me to Camp Half-Blood, where I learned why I had a knack for learning Greek and where I learned to use a ring which turned into a sword when you tapped the gem on it. It was called προστάτης, or Protector. Patrick became my best friend, and I learned that he was a satyr.
My mother told me about Dionysus, god of wine and madness and parties (wow) and my biological father and how he had to leave us. I spend every summer at Camp Half-Blood, and it's the best time of the year. He's camp director, but sadly no privileges come out of this.
BASICS
NAME: Isha
AGE: 14
BIRTHDAY: November 20
APPEARANCE
HEIGHT: 5. I'm tiny. WEIGHT: No woman should ever answer this. (thank you Autumn)
EYE COLOUR: Dark Brown
HAIR COLOUR: Dark Brown
SKIN COLOUR: Dusky
SUPERNATURAL POWERS
Jesus wine quality
Party animal
Can make person go cuckoo
ENCHANTED WEAPONS AND OBJECTS Ring that turns into sword. Is called Protector or προστάτης.
NATURAL SKILLS AND ABILITIES
WEAPON OF CHOICE: Sword and/or pepper spray
NON-MARTIAL SKILLS: I can English
FAVOURITES
COLOUR: Purple, Black
FOOD: Fried chicken
BEVERAGE: Coffee
SPORT: Badminton (imitation tennis)
MOVIE: 21 Blackjack
MUSIC: I like everything except country and Tibetan Throat Singing
DISLIKES AND FEARS
I have acrophobia and claustrophobia